WEST BETHESDA, Md. - A ship hull model attached to a high-speed sled moves through waves at the David Taylor Model Basin at Naval Surface Warfare Center, Carderock, during Office of Naval Research -sponsored research. The research studies the fundamental physics of the water-impact of high-speed planing hulls and to measure the slamming loads and resulting motions of the craft upon re-entry into the water.
PORTLAND, Oregon - Sea Hunter, an entirely new class of unmanned ocean-going vessel gets underway on the Williammette River following a christening ceremony in Portland, Oregon. Part the of the Defense Advanced Research Projects Agency (DARPA)'s Anti-Submarine Warfare Continuous Trail Unmanned Vessel (ACTUV) program, in conjunction with the Office of Naval Research (ONR), is working to fully test the capabilities of the vessel and several innovative payloads, with the goal of transitioning the technology to Navy operational use once fully proven.
SAN DIEGO, Calif. - The U.S. Navy's Littoral Surface Craft-Experimental (X-Craft), developed by the Office of Naval Research and christened Sea Fighter (FSF-1), arrives at her new homeport of San Diego, Calif. This high-speed aluminum catamaran will test a variety of technologies that will allow the Navy to operate in littoral waters. With a base crew of 26, Sea Fighter will also provide a platform for the evaluation of minimum manning concepts on future naval surface ships.
CARSON CITY, Nev. - The combat tactical vehicle technology demonstrator (CTV-TD) is undergoing automotive testing at the Nevada Automotive test Center (NATC) in Carson City. Built under contract for the Office of Naval Research, the CTV-TD is a test bed for the joint light tactical vehicle family of vehicles. The CTV-TD offers several advantages and new technologies, including adjustable ride height, central tire inflation system, an integral rollover protection system and improved survivability over the current Humvee.
ARABIAN GULF - The Office of Naval Research (ONR)-sponsored Laser Weapon System (LaWS) performs an operational demonstration aboard the Afloat Forward Staging Base (Interim) USS Ponce (ASB(I) 15) while deployed to the Arabian Gulf.
NORFOLK, Va. - The Large Vessel Interface Lift-on/Lift-off (LVI Lo/Lo) crane, funded by the Office of Naval Research, demonstrates container transfers pier side using a roll simulator aboard the Military Sealift Command auxiliary crane ship USNS Flickertail State (T-ACS-5) at Naval Station Norfolk. The LVI Lo/Lo crane enables the rapid and safe transfer of standard ISO containers and other heavy loads at sea.
DAHLGREN, Va. - The Office of Naval Research Electromagnetic Railgun located at the Naval Surface Warfare Center Dahlgren Division, fired a world-record setting 33 megajoule shot, breaking the previous record established January, 31, 2008. The railgun is a long-range, high-energy gun launch system that uses electricity rather than gunpowder or rocket motors to launch projectiles.
KODIAK, Alaska - The Office of Naval Research-sponsored tactical satellite IV (TacSat-4) lifts-off from the Alaskan Aerospace Corporation's Kodiak Launch Complex aboard a Minotaur IV+ launch vehicle. Built by the Naval Research Laboratory and Johns Hopkins University Applied Physics Laboratory, TacSat-4 will allow troops using existing radios to communicate on-the-move and from obscure regions.
ARCTIC OCEAN - An Air-Deployable Expendable Ice Buoy (AXIB) is deployed in the high Arctic near the North Pole from a Royal Danish Air Force C-130 aircraft operating out of Thule Air Force Base in Greenland, as part of the International Arctic Buoy Program (IABP). The IABP is a conglomeration of global participants that maintain a network of drifting buoys in the Arctic Ocean that provide meteorological and oceanographic data for real-time operational requirements and research purposes.
GULF OF MEXICO - A composite photograph shows Coyote unmanned air vehicles (UAVs) being launched in rapid succession from the deck of Sea Fighter (FSF 1) during an at-sea demonstration of the Office of Naval Research Low-cost UAV Swarming Technology (LOCUST) program.
PACIFIC OCEAN - Only 55 feet remain visible after the crew partially floods the Floating Instrument Platform, or FLIP's, ballast tanks causing the vessel to turn stern first into the ocean. The 355-foot research vessel, owned by the Office of Naval Research and operated by the Marine Physical Laboratory at Scripps Institution of Oceanography at University of California, conducts investigations in a number of fields, including acoustics, oceanography, meteorology and marine mammal observation.
PATUXENT RIVER, Md. - Karl Carkhuff, a civilian contractor with Integrated Systems Solutions, Inc., assists with mooring the Navy's MZ-3A manned airship following operations conducted at Patuxent River, Md. The MZ-3A, assigned to the Naval Research Laboratory Military Support Division's Scientific Development Squadron One (VXS-1), is an advanced flying laboratory used to evaluate affordable sensor payloads and provide support for other related science and technology projects for the Naval Research Enterprise.
NEWPORT NEWS, Va. - An unmanned seven meter rigid hulled inflatable boat (RHIB) operates autonomously during an Office of Naval Research (ONR)-sponsored demonstration of swarmboat technology held on the James River in Newport News, Va.
NAHANT, Mass. - The biomimetic underwater robot, Robolobster, at Northeastern University's Marine Science Center. Biomimetic robots take advantage of capabilities proven in animals for dealing with real-world environments.
POMONA, Calif. - A robot from the Institute of Human and Machine Cognition (IHMC) located in Pensacola, Florida, makes its way through the simulated disaster course on its way to a second place finish during the Defense Advanced Research Projects Agency (DARPA) Robotics Challenge (DRC). Twenty-four teams and their robots from around the world have 60 minutes to complete eight tasks along a simulated disaster course located at the Fairplex in Pomona, California.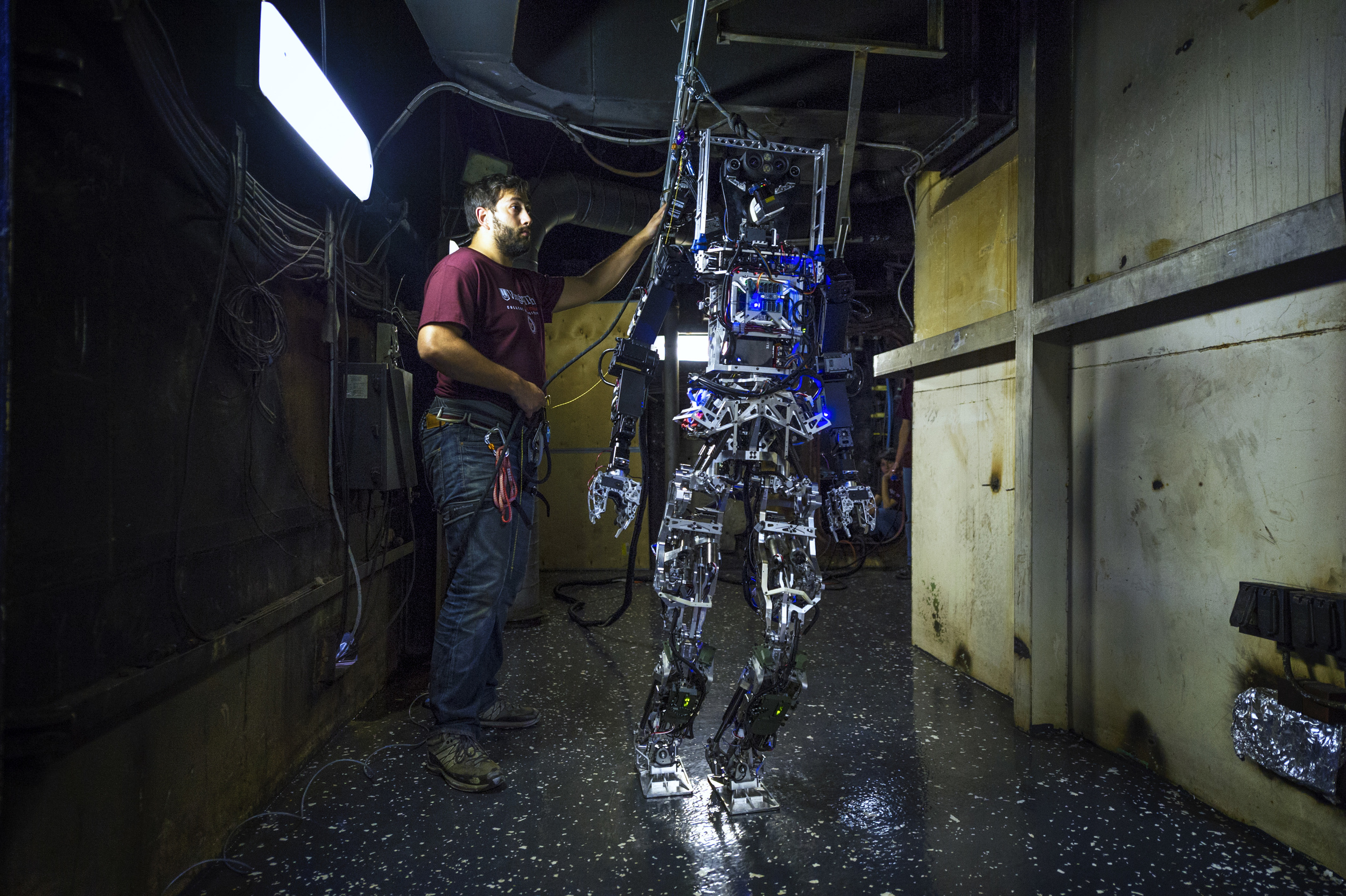 MOBILE, Ala. - John Seminatore, a graduate student at Virginia Tech, secures the Office of Naval Research-sponsored Shipboard Autonomous Firefighting Robot (SAFFiR) during testing aboard the Naval Research Laboratory's ex-USS Shadwell in Mobile, Ala. The bipedal humanoid robot, developed as a test bed for autonomous firefighting and damage control operations, was tethered to a power source for demonstrations aboard the Navy's fire test platform.
SCOTLAND - Lt. Chelsea Ware, Office of Naval Research Reserve Component (ONR-RC) monitors the ONR-sponsored Waterside Rapid Deployment Security System located at the end of a pier at the British Underwater Test & Evaluation Centre during Unmanned Warrior (UW). The first-ever UW is a research and training exercise designed to test and demonstrate the latest in autonomous naval technologies while simultaneously strengthening international interoperability. The U.S. team, led by ONR, is in Scotland to partner with more than 40 international participants from other navies, industry, academia and research laboratories.
SCOTLAND - The Royal Navy leaves Hell Bay IV with a REMUS 100 unmanned underwater vehicle during the first-ever Unmanned Warrior (UW). Hell Bay, a series of sea trials that bring together state of the art developments in mine countermeasures autonomy for unmanned systems from The Technical Cooperation Program (TTCP), is part of UW and involves over 40 different organizations and 50 vehicles undertaking challenging military missions in a demanding environment.
ARLINGTON, Va. - Jim Blesse, standing, from the Office of Naval Research (ONR), explains project BlueShark to Lt. Col. John Moore from the Marine Corps Warfighting Laboratory. Project BlueShark is an ONR effort to create a high-tech, futuristic environment to demonstrate what operational work environments might look like and what emerging innovative technologies might provide in the next decade.
ATLANTIC OCEAN - Lt. Andrew Wiese evaluates a catapult capacity selector valve (CSV) calculator provided by the Office of Naval Research during flight operations aboard the aircraft carrier USS Harry S. Truman (CVN 75). The CSV calculator is a personal digital assistant that would replace paper lookup tables and allow flight deck personnel to compute the proper settings for an aircraft carrier steam catapult. The device is being provided through the Tech Solutions program, a rapid-response technology development program that funds government laboratories to produce prototype solutions for problems identified by Sailors and Marines.
PACIFIC OCEAN - Sara Goheen, an engineer with Scripps Institution of Oceanography, operates a crane aboard the Auxiliary General Oceanographic Research (AGOR) vessel R/V Sally Ride during the retrieval of scientific equipment as part of a science verification cruise. Operated by Scripps under a charter lease agreement with the Office of Naval Research, Sally Ride has multi-beam bottom-mapping and ocean current profiling sonars, advanced meteorological sensors and satellite data transmission systems, the latest navigation and ship-positioning systems and a specially designed hull that improves sonar acoustic performance.
Washington, D.C. - Morgan State physics major Derick Buckles works in the lab during a 10-week internship at the Naval Research Laboratory in Washington, D.C., part of a summer research program administered by the Department of the Navy's Historically Black Colleges and Universities and Minority Institution (HBCU/MI) program. In addition to conducting scientific research, undergraduates attend scientific and skill-set seminars on topics including laboratory safety, ethics in science and engineering, job-search and interviewing skills and resume writing.
CAMP PENDLETON, Calif. - Sgt. Thomas Hopman, a squad leader with 2nd Battalion, 1st Marines, leads a fire team as they train with the Future immersive Training Environment (FITE) Joint Capabilities Technology Demonstration (JCTD) virtual reality system located within the Office of Naval Research's Infantry Immersion Trainer in the San Mateo area of Camp Pendleton, Calif.
OCRACOKE, N.C. - Aamir Qaiyumi, foreground, and Mark Connelly, with Naval Sea Systems Command in Panama City, Fla., analyze data from Remote Environmental Monitoring Units (REMUS) aboard the Office of Naval Research (ONR) Afloat Lab, YP-679. The side scan sonar data were collected from an autonomous underwater vehicle (AUV) during the previous day's mission when the National Oceanographic and Atmospheric Administration, with support from ONR, returned to the "Graveyard of the Atlantic" to continue the search for the Alligator, the U.S. Navy's first submarine. The joint expedition is taking place off Cape Hatteras, N.C., where the Civil War-era vessel was lost during a fierce storm in 1863.